I had an interesting experience while I was Vice President of Strategy and Business Development at Giles-Parscale. We were the Texas marketing agency responsible for the social media marketing and data work for the campaign Donald J. Trump for President. In the summer of 2015, my friend Brad Parscale recruited me out of private consulting to come work for him. Brad is now
Campaign Manager for Trump 2020
.
The Videos
I got involved in the very early days, making social media videos for the candidate. I designed, produced, and edited all the front-facing videos of the President speaking directly to the American people. Brad then posted these videos on Facebook and YouTube to millions of people. They later became the "Issues" page for the campaign website. Click the link and do a little digging you can watch the web archive of these videos now removed from YouTube.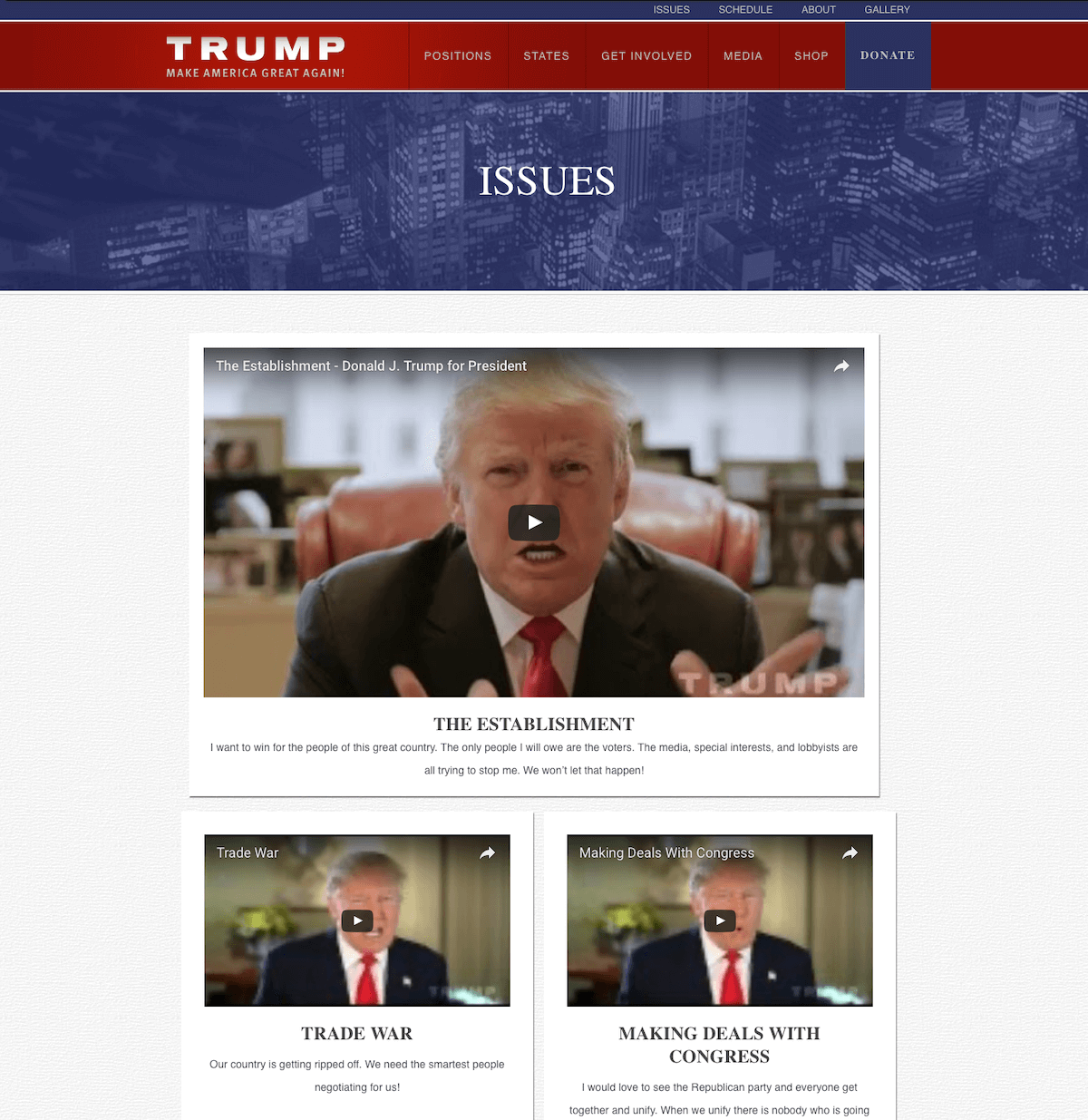 The most important thing I noticed while editing these videos was the clarity of Mr. Trump's ideas. Whatever you think about the man, he knows what he believes and tells it to you straight. As I poured over hours of raw footage of the candidate I watched something amazing. Mr. Trump was seated in his office in Trump Tower with 2-3 advisors behind the camera. They would toss out ideas of talking points and he would share his thoughts in 30-45 seconds bites. Just sitting there talking like he was chatting at dinner. No notes. No Rehearsals. Just his thoughts on the issues.
This was amazing to me. Mr. Trump had zero political polling data or carefully crafted language in front of him. No spinsters or attorneys standing in the wings to advise topics or correct his statements. No focus groups or A/B testing of trigger words to elicit emotional responses by voters. Mr. Trump was not speaking to tickle the ears of the public. He was saying what he thought and what he intended to do. I've watched him say the same things for 3 years and, more importantly, do exactly what he said.
This was when I realized candidate Trump was different. He was raw, prideful, honest, and fierce. My respect for him grew immensely between Dec. 2015 and Apr. 2016 while I created his videos. (See a few samples below) Editing his videos gave me a glimpse into the man who was asking to run our nation. Who I saw was not the buffoon the media was making him out to be. Perhaps something else was going on here? This emerging question led me to revisit my own opinions and seek the Lord for His heart on the man.
Hearing God
While editing the videos I began to ask God how should I pray. Mr. Trump was not my ideal candidate. Few thought he was Presidential material. Secretly I was rooting for someone else. But I have learned over the years that my opinion about a thing is often not the same thing as having God's heart. I wanted to know what God had to say. If it was different I would stop praying my own opinion. The things I heard surprised me.
Before I get into more of what I call "God's Voice", some of you may be new to the idea that God speaks. Fifteen years ago when I began to encounter those who said they heard from God I was highly skeptical. But I discovered the important teaching of Jesus. He says in John 10:25-28
Jesus answered them, "I have told you the truth already and you did not believe me. The proof of who I am is revealed by all the miracles that I do in the name of my Father. Yet, you stubbornly refuse to follow me, because you are not my sheep. As I've told you before: My own sheep will hear my voice and I know each one, and they will follow me.
I believe the One who calls Himself the Word of God still has some things to speak to His children. So when we connect to the Father's heart, learning to ask questions, listen, and act, we begin hearing more and more clearly. This hearing oftentimes gives insight and direction to our personal lives. It is a vital source of intimacy with God.
But God can and does give us information about what He's doing in the lives of other people. He also speaks about the world around us. For me in particular I hear a lot of things about government. Now you may be rightly critical of those who say they "heard God". Maybe you experienced someone invoking God and then using that to manipulate, control, judge, and condemn you. I understand that concern very well. As a pastor, I led and trained people in the prophetic ministry for many years. I have seen quite a few messy situations. But, without going into a long discussion about the validity of the prophetic, 1 Corinthians 14 tells us that "…the one who prophesies speaks to people for their upbuilding and encouragement and consolation." Prophetic words are for this purpose.
So it is with this heart I submit my personal experience on the campaign and the following things I heard from the Lord. These words fueled my intercession for the past two and a half years and have proven to be a reliable source of strategy and insight for me.
No Longer Divided & Weak
The first thing I heard was on January 1st of 2016:
"This is going to be a remarkable year in the life and history of America. No longer is the nation divided and weak. No longer are the politics of the country driven by partisanship and division. I am doing a new thing. There are those who still live and seek the old way of living. But greater are the numbers of my servants who abound in my presence and know the ways of my quiet voice. 
When I heard this word almost 3 years ago I had the same reaction I do today. Are you for real God! No longer divided and weak?! No longer driven by partisanship and division? This can't be God.
But it's vital to remember that God is the one who calls things that are NOT as though they ARE (Rom. 4:17). So the Father is not telling us what is but what will be.
The fact that God saw our nation as undivided became a critical piece of information for me. God does not see our nation's future as divided and weak. We are not driven by partisanship and division. I received that word as a promise and declare that over my Nation on a regular basis. The Lord went on:
The temptation in 2016 will be to listen more attentively to the noisy old guard. I need you to hear the humble speech of my positioned warriors. There is grace and power attached to the words I speak. There is flourish and pomp attached to the words of the world. You know the difference. Teach others to hear with undivided hearts the messages of the new ones I'm bringing forth.
This part of the word set the tone for my time on the campaign and subsequent intercession. It shaped what I allowed to be my sources of information. I watched carefully as a noisy old guard after a noisy old guard was engaged by Mr. Trump and beaten. How did this man beat out 16 other professional politicians and get nominated? How did he win against Hillary Clinton?! The flourish and pomp of the "establishment" were decimated by the raw, unfiltered message Mr. Trump was proclaiming to hundreds of thousands of everyday Americans across the nation. He resonated with the people in a way that shook and continues to shake, our nation.
So I began to tap into the new voices that God had positioned across the globe. These new voices were speaking the Father's heart for America and revealing what God was up to on the earth. When I did this I discovered that God is very interested in everyday believers learning how to hear what He is saying and doing in our Nation. Our job is to develop an intimate connection to God and learn to hear his voice.
Hearing God does not mean that you must give up your reason or discard your political opinions. However, when you seek Him to the best of your understanding and with your whole heart, He will make Himself known to you. He will share His heart and His plans for you and your nation. When you hear it, and listen, your world and the world around you will be forever impacted.
Warning, you may be required to change your thinking. But if you want God's answers to the problems of the nation, you need God's wisdom and not your own opinions.